Community Profile

BtVS LIMS
last icon maker standing, BtVS style
Free Account
Created on 2017-04-05 20:24:34 (#2872392), last updated 2017-04-06 (24 weeks ago)
2,564 comments received
551 Journal Entries, 33 Tags, 0 Memories, 0 Icons

About
| | |
| --- | --- |
| Name: | LIMS Buffy the Vampire Style |
| | |
| | |
| Membership: | Open |
| Posting Access: | Select Members |
| | |

Mini Bio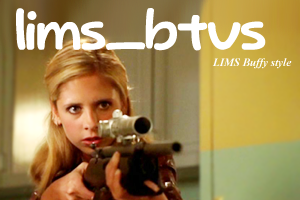 about.
This a last icon maker standing community dedicated to the series
Buffy the Vampire Slayer
. You'll find challenges here dedicated to the characters, actors, and/or episodes of the show. The point of this community is to sign up and to participate in a series of challenges. Every week you will vote off an icon(s) that you felt was the most least quality compared to the rest of the entries and they will no longer be in the running for the best icon maker. Eventually we will have a winner and they will be the Last Icon Maker Standing!
how this all works.
- In order to be able to join the fun, you must sign up here.
[Round #12 is currently
in progress
.]
- Join and/or watch the community to keep up with posts.
- Make sure you read the rules of the challenge.
I'll be providing you with a photo (usually) and you can do whatever you want to that photo (textures, brushes, text, etc.).
Round #12 will have given themes on odd numbered challenges. Even numbered will be provided screencaps.
- When you submit you must submit the image url & the image itself (< img src="yourimageurl"> but put the spaces back in between the brackets).
- I understand life gets in the way so you get one skip automatically. Please let me know if you have to use the skip. Make sure you read the rules of the challenges because I usually don't allow skips after a certain # of challenges.
- Post your own work, do not recycle icons, do not use pre-made bases/graphics, and do not share the icon until after voting is over & the winners are posted.
schedule.
please note that this schedule may change due to real life or from the need to extend challenges.
Icons are due late SaturdayVoting from early Sunday hours until Monday eveningMonday evening - new challenge postedpast winners.
Round #1
/
hermionesparkle
Round #2
/
imaginary_lives
Round #3
/
longerthanwedo
Round #4
/
darlaslilgirl
Round #5
/
sourpony
Round #6
/
dance_the_dance
Round #7
/
dance_the_dance
Round #8
/
dance_the_dance
Round #9
/
lukecanwaltz88
Round #10
/
crazycordy
Round #11
/
neatmonster
credit.
- Layout & profile coding provided by
minty_peach
. Header image made by
hermionesparkle
affiliates.
26movielims
be_obsessive
bspears_lims
btvscast20in20
btvsfans
btvsmedia
buffygifs
bwlims
canceled20in20
charisma_cfans
charisma_stills
cw20in20
dailybtvs
demily_stills
eliza_lims
emmalims
free20in20
friends20in20
himymlims
i_heart_lims
jsimpsonlims
joss_by_episode
lims_friends
lims_movie
lovebites20in20
mkalims
rand_icontests
ontd_buffy
sarah_stillness
scifi20in20
season20in20
shadowed_icons
spuffy_daily
stargate20in20
startrek_lims
stock_lims
tvcharacter20
tv_lims
vampires20in20
whedon20in20
whedonland
whedon_stills
if you'd like to be an affiliate, please comment
here
.

Connect
alyson hannigan
, amber bensen,
angel
,
anya
,
btvs
,
buffy
,
buffy summers
,
buffy the vampire slayer
,
buffy/angel
,
challenges
,
cordelia
,
cordy
,
darla
,
david boreanaz
,
dawn
,
drusilla
,
giles
,
icons
,
icontest
,
james marsters
,
joss whedon
,
joyce
,
julie benz
,
last icon maker standing
,
lims
,
michelle trachtenberg
,
oz
,
riley
,
sarah michelle gellar
,
seth green
,
slayer
,
spike
,
spike/buffy
,
summers
,
tara
,
upn
,
vampire
,
vampires
,
voting
,
wb
,
weekly
,
willow/tara
,
xander
Administrators

Members (3):

Subscribers (4):

Linking
To link to this user, copy this code:
On Dreamwidth:
Elsewhere: